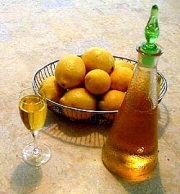 Limoncello
(lee-mohn-CHEH-loh)
Limoncello is the generic name for an Italian citrus-based lemon liqueur that is served well chilled in the summer months. Limoncello is now considered the national drink of Italy and can be found in stores and restaurants all over Italy.
An absolute natural product acquired by the infusion of lemon skins in pure alcohol. It has become Italy's second most popular drink after Campari.
Refreshing and light, Refreshing and light, it is wonderful as a palate cleanser or as an after dinner drinks. It is an incomparable digestive, and with tonic water it is a sweet, tasty refreshment. It's also great with champagne or mixed with juice as a cocktail. It even does well simply drizzled on ice cream, fruit salads), or fresh strawberries.
Keep your bottles of Limoncello in the freezer until ready to serve. The ingredients are simple and few, and making a batch doesn't require much work, but you'll need some time. In most recipes, Limoncello must steep for (80) eighty days.
---
History: It has long been a staple in the lemon-producing region along the Italian Amalfi Coast in Capri and Sorrento. The Amalfi Coast is known for its citrus groves and narrow winding roads.
Authentic Limoncello is made from Sorrento lemons, which come from the Amalfi Coast. Families in Italy have passed down recipes for this for generations, as e very Italian family has their own Limoncello recipe.
Information from
What's Cooking America
The Recipe
20 lemons , well scrubbed
2 (750 ml) 151 proof Everclear
5 1/3 cups sugar
6 2/3 cups bottled water
Wash the lemons with a vegetable brush and hot water to remove any reside of pesticides or wax; pat the lemons dry. Carefully zest the lemons with a zester or vegetable peeler so there is no white pith on the peel.
Step One:
In a large glass jar (1-gallon jar), add one bottle of Everclear; add the lemon zest as it is zested. Cover the jar and let sit at room temperature for at least (10) ten days and up to (40) days in a cool dark place. The longer it rests, the better the taste will be. (There is no need to stir - all you have to do is wait.) As the limoncello sits, the Everclear slowly take on the flavor and rich yellow color of the lemon zest.
Step Two: (40 days later)
In a large saucepan, combine the sugar and water; cook until thickened, approximately 5 to 7 minutes. Let the syrup cool before adding it to the Limoncello mixture. Add to the Limoncello mixture from Step One . Add the additional bottle of Everclear. Allow to rest for another 10 to 40 days. I suggest 40 days, it really makes a HUGE difference.
Step Three :
After the rest period, strain and bottle: discarding the lemon zest. Keep in the freezer until ready to serve. Cheese cloth or coffee filters are good methods of straining.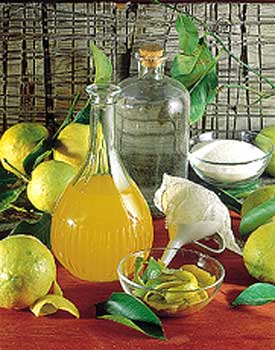 Ways to serve other than just drinking (drinking is my favorite way).
Make Limoncello Baba
Over ice chips
Mix with sparkling wine or mineral water and add a twist of lemon peel to serve as an aperitif
Toss with fresh berries or fruit
Over vanilla ice cream or frozen yogurt